For those that enjoy a nice glass of wine with dinner, or while listening to music, here are a few of my personal favorites. The reviews, though accurate are not my own and I have added a credit line identifying the source.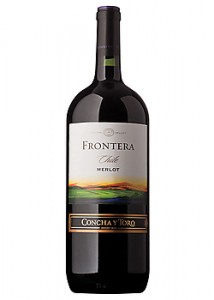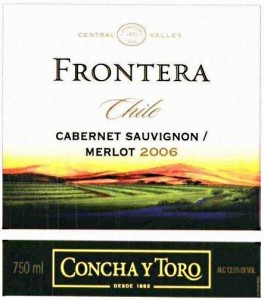 (try the one that says "Merlot" only on the label)
Chilean wines have moved from the "hot" buy of the day to a good sound choice for party or table. Leading that shift is the 'big dog' Concha y Toro and make no mistake they produce some excellent wine, also make no mistake their Frontera line is a great value for the money. The Frontera Cab/Merlot blend has long been a favorite recommendation of mine, but till this week I have shied away from the single varietals, however, after sampling the 2012 Frontera Merlot this past week that choice has clearly been my loss.
A pretty, bright ruby color in the glass and a nose full and grapey with a little cherry that rolls into a fruitful full flavored wine. The aroma bleeds evenly into the flavor of blackberry, cherry and a feel of stone at the end that provides a good ending point. Round with nice soft tannins the flavor dissipates quickly, but there is a a lingering essence in the mouth that makes this a very easy wine to enjoy on its own or at the table with pasta in red sauce or grilled meats.
If you have company I strongly suggest you look for the 1.5L bottle, the price point is usually very attractive at around $9, but even the 750ml for $5 to $6 frequently found all over town is nice buy. In the end I was torn between two and three stars for the Frontera Merlot, but the lack of depth in the flavor profile shifted my opinion toward the lower score. Nonetheless this would be a great alternative to the numerous value wines from Australia or the "me too" wine on a budget coming from California.
(review by Toronto Examiner)