Powerstat Variac – 10 Amp
110VAC Input – 140VAC Output
Grounded Power Cord and Outlet
Very Clean
$70.00, plus shipping
Hand Made South Korean Single-Ended 45 Tube Stereo Amplifier $1400.00
This is a very special amplifier and was built by a very competent audiophile in South Korea using only the best components. The transformers are vintage Western Electric which adds to the amazing quality of the sound. Listening to these 45 tube based amplifier can be quite addictive, especially when coupled with vintage, highly efficient speakers. I have used this amplifier on my Klipschorns, Goodman Axiom 80's, Altec 604E's and EMI-901 with amazing results. Not surprisingly, it is a little underpowered for the Quad ESL-63's.
I don't believe I have heard Norah Jones, Pete Fountain, Dave Brubeck, and others sound quite as good. Classical recordings come alive with crystal clear instrumentation and dynamic sound stage.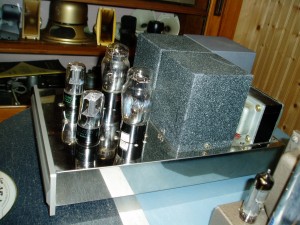 Allen Organ Mono Tube Amplifier Pair  Sold
100 Watts Each Amplifier
Quad TungSol 5881, (2) Sylvania 6SN7,  (1) RCA 6AU6, (2) Sylvania 5U4
Professionally Updated and Modified For Home Use
Including All Tubes – Works Great!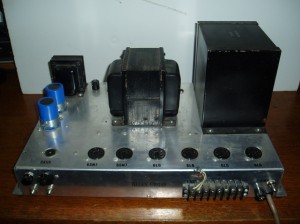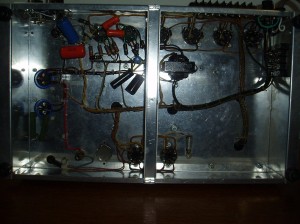 Sansui 1000A Tube Stereo Receiver $650.00
Beautiful Inside and Out
Gorgeous Sounding – Great FM and Phono Section